Purpose Kids
6 weeks - 6th Grade
"Through the praise of children and infants you have established a stronghold against your enemies." - Psalm 8:2
Kids Who Love Jesus and His Church.
We are passionate about raising up the next generation to love Jesus and His church. We are focused on leading children to know God and His word.
Always thinking three generations deep, we are committed to raising up leaders that will change the world!
Kid's Small Groups
Small Groups are a big deal for kids, too! With our trained teachers and the AWANA curriculum, your child will learn to walk with Christ for life.
Sign up your child today!
Sign Up
Sunday Child Check-In
Make your first time at church easier by pre-registering your children!
Simply sign up and print your tags when you arrive!
Complete Child Pre-check
Children's Environments and Classes
Nursery
6 weeks – 24 months
Staffed with caring adult Dream Team members, we communicate and display God's love to every child. Your child will be rocked, cuddled, sang to, and prayed over during every service.
Toddlers
2s & 3s
Our toddlers learn the Bible through age-appropriate activities like stories, crafts, and Bible action songs that reinforce Bible truths, all while having a blast with new friends and being cared for by dedicated teachers and volunteers.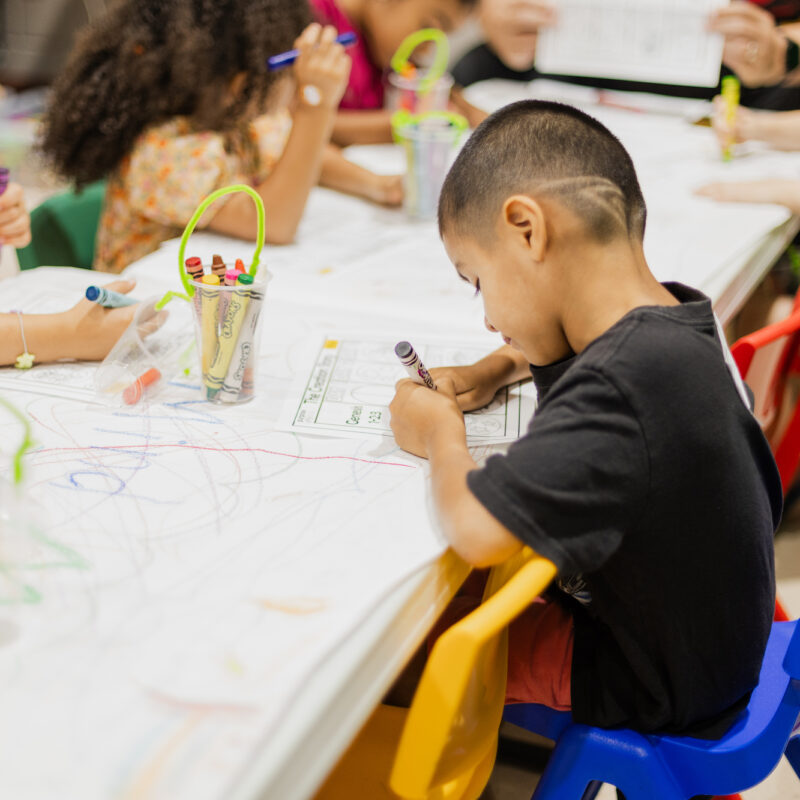 Pre K - Kinder
4s & 5s
With the help of dedicated Dream Teamers, preschoolers learn about God through age-appropriate curriculum based on three basic truths: God made me, God loves me, and Jesus wants to be my friend forever. This purpose is accomplished through interactive worship, creative Bible lessons, and small-group-inspired activity stations.
Elementary
6 Years – 6th Grade
Everything we teach in Elementary is based on four basic, but powerful, truths modeled by Jesus: Love God, Love People, Do Your Best and Have Fun! Our services are designed to promote discovery and invite kids into a new understanding of how to grow in relationship with Jesus. Kids engage through amazing worship, learn through creative and interactive teaching, and grow in their relationships through small groups.
A Few Things to Help You Get Started!
On your first visit, plan to come at least 20 minutes before service to register your family. We will meet your family and ask you to complete a basic information card. Then one of our Dream Team volunteers will lead your child to their age-appropriate room.
We will ask for the following personal information: family members' names, children's names and birthdates, address, phone number, and any special instructions (allergies, special needs) for your child.
Purpose Kids Pre-Check!  Make your first time easier and pre-register your children!
Online registrations will need to be received no later than 9PM the day before in order to be processed in time for services.
The current curriculum we are using is Wonder Ink.
Safety is our top priority. Parents are provided a security tag with a numeric code that is unique to your family and only on that day. The child will need to wear their tag while the parents keep the matching tag. After the service, you will return to your child's room and show your tag in order for your child to be released back to you. After your first visit, you will then be entered into our database and may visit one of our self-serve check-in kiosks to print your tags.
In the event that we need to contact you during the service, we'll text the cell phone number you provided at check-in.  We ask that you exit the service immediately and come to your child's classroom.
Our special Nursing Mother's Room area is specially designed for mothers with infants to care for their child in a private environment where you can feed, change, and care for your baby when you are attending a Sunday service.  Ask one of our friendly and helpful Check-In volunteers and they will direct you to the Nursing Mother's Room.
Every child can have a personal relationship with Jesus, and at Purpose Kids, we encourage them to make a decision to follow Him. If your child is ready to be baptized, their next step is to make plans to attend our next baptism event.
Child dedication is a time for parents to symbolically give their children back to the Lord. It is a joint expression of a parent's commitment to raise godly children and our commitment as a church to support and walk alongside parents in that calling.
On your way home, be sure to ask your child questions like, "Did you have fun?" and "What did you learn today?" It's our goal that every child has a positive answer to these two questions, every week!
Parent Resources
Parents, we see you! Raising littles is hard work! We are committed to partnering with you on this journey. Our team has created a Parent Resource Page that's just for you! Click the button below to access our latest material on how to lead your family well. You got this!
Bible App for Kids
We love The Bible App For Kids because it is targeted for your littles at home. Explore the Bible together through animated stories and interactive activities. Your preschooler will love learning the greatest story ever told in a fun and fresh way!
PragerU Kids
PragerU Kids has done an excellent job of taking big complex topics and breaking them down into age-appropriate sound bites through engaging video series that your kids and youth will love. This free-streaming platform is a great combination of Bible, history, and fun that your family can enjoy learning together.
Parents, there's also great content that's just for you! Head to PragerU to check out everything they have to offer for you and your family today.